How to Pick a Deck Stain Color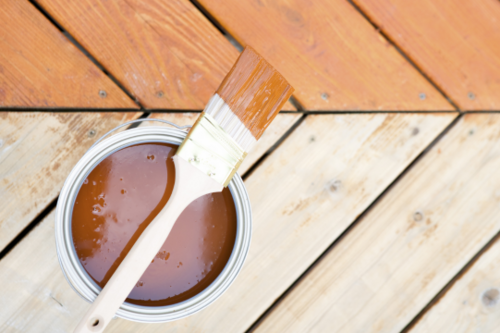 As the weather warms up, many homeowners are preparing their outdoor spaces for backyard barbecues, lazy afternoons in the sun, and entertaining.
When you prepare your outdoor space, be sure to choose the right deck stain color to match your home. The right deck stain color enhances the beauty of your outdoor space and create a harmonious look with your home.
Here are a few things to keep in mind when selecting your new deck stain:
Consider Your Home's Exterior Color Palette
The first step in choosing the right deck stain color is considering your home's exterior color palette. Look at the color of your home's siding, trim, and other exterior elements. Take note of the dominant colors and undertones and choose a color that complements your home's aesthetic.
Harmonize with the Style of Your Home
Consider the architectural style of your home. Different architectural styles are associated with different color palettes. If you have a traditional colonial-style home, you may want to choose a classic, dark stain.
Test Samples on Your Deck
It's important to test samples of different stains before making a final decision. The appearance of a stain can vary depending on the type of wood, the deck's condition, and sun exposure.
Think About Maintenance and Longevity
It's important to consider the maintenance and longevity of the stain. Different colors may require different maintenance levels and may show wear and tear differently. Lighter colors may show dirt and stains more easily, while darker colors may fade or show peeling more noticeably.
Exterior Painters Ann Arbor Want You to Enjoy Your Outdoor Space
Are you ready to love your deck again?
Selecting the right deck stain color to match your house is a crucial step in creating a beautiful and cohesive outdoor space. Working with exterior painters in Ann Arbor saves you the hassle of picking a color from scratch and prepping the wood for staining.
Contact the Mussio Painting team at (734)995-2646 to get the most use out of your deck this summer!