Dexter Master Painters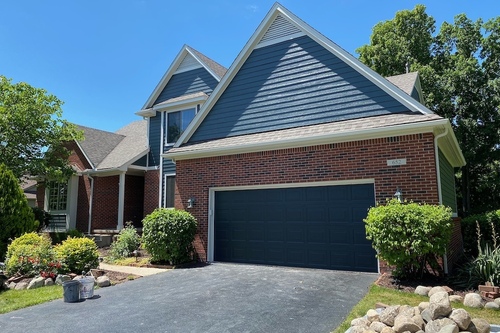 Want to change up your Dexter, Michigan home?
Is the paint on your home chipping and tearing away?
Is exterior painting too big of a job to do yourself?
Mussio Painting is your local contractor ready to transform your space. Our team is personable and pays attention to all your needs. Whether it's adding a fresh coat of paint to your home or getting a power wash to the deck, we have you covered!
Our team offers a variety of services to fit the needs of your home. Interior and exterior painting/staining is one of our customer favorites because it vamps up your home and lifestyle. Enhance your lifestyle all by adding some color to your world!
Color consultation by Dexter Master Painters

It may seem like a tough decision to choose the perfect color for your home. We've got you covered by offering a color consultation by Dexter master painters. This gives you peace of mind when having to make a hard decision.

Highest quality products from Anderson Paint Company

Mussio Painting only uses the highest quality products for each job. Anderson Paint offers their own line of the best quality coatings.

Lead Abatement Certified

Our company is lead abatement certified and we take all the necessary precautions to make sure your home is safe. Lead-based paint is a worry for every homeowner, and in order to live in a safe environment we want to make sure your home hasn't been overtaken by the toxin. If so, we know how to fix the problem!

Get the job done fast

We have a large and experienced team that is committed to working long hours! We want to make sure we get the job done in a timely fashion.
Steve Mussio, the owner of Mussio Painting, works beside the team to make sure the job is done right! Established in 1984, the team's 36 years of experience pays attention to the small details hard to see by the naked eye. For Mussio, customer service, communication, and business relationships are key to the business. When you hire our contractors for the job, Mussio will personally meet you on your property to discuss all of your project needs. He will also explain what to expect, suggestions, and how the project will go about getting done. It is important for us that you're not only comfortable with the process but also with the end results!
"My house looks beautiful thanks to Steve and his amazing team! Extremely thorough and so hard working! Everyone was professional and so nice to work with. Steve is on the job working and coaching the team and, explaining everything to me as they worked very long days. A big "Thank You!" to Steve and all the guys. I really appreciate your hard work." -Christine E.
Read more of our REVIEWS!
Give Mussio Painting a call at (734) 995-2646 today and get a free guaranteed estimate! Now servicing the surrounding areas of Ann Arbor, Milan, Canton and Ypsilanti. We're on a mission to enhance your lifestyle by the adding the small details to your Dexter, Michigan home