Master Painters in Chelsea, MI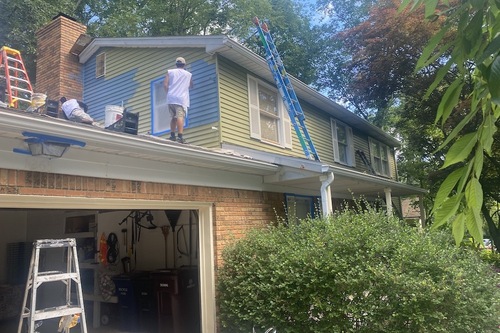 Does your curb appeal need some help?
Does your house look older than it really is?
It can be a daunting task to improve the curb appeal of your home. There are a few ways to improve your home's curb appeal with a little thought and elbow grease:
Paint your whole exterior – this will instantly make your home look brand new.
Paint your trim and accents – if painting your home seems too large a task, transform the look of your home by painting your front door with a pop of color.
Upgrade your lighting features – new lighting makes your home look and feel welcoming.
Add color to your flower beds – spread fresh mulch, fill it with fresh flowers, or add cute planters for new color without paint!
Power wash – dirt and grime build up on siding, windows, and gutters. You can rent a power washer or hire professionals.
Keep your lawn tidy – a well-manicured lawn goes a long way to making your home looking more put together.
Master Painters Serving Chelsea, Michigan Improve Curb Appeal
Unsure where to start boosting your curb appeal?
Hiring master painters serving the Chelsea, Michigan area can help you boost the curb appeal of your home, without you having to break a sweat!
Contact our team at (737)995-2646 for your next home project!
Recommended in the Industry
"Anderson Paint Company proudly recommends Mussio Painting. Steve and his team have a proven track record of providing their customers with first class workmanship, high quality products, and outstanding customer service."
-Bob Anderson Jr. Anderson Paint Company