Ann Arbor Exterior Painting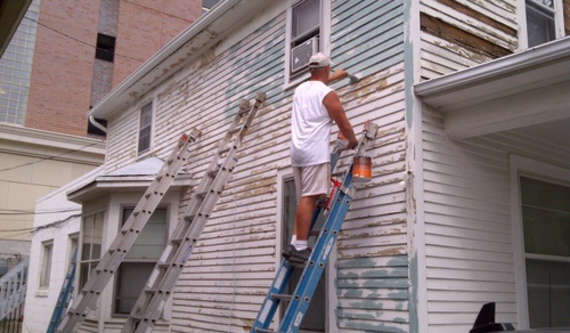 Is the paint on your siding chipping, cracking, or flaking off?
Are you in need of some curb appeal to help sell your home?
Do you want your house to stand out on your block this summer?
The Ann Arbor exterior painters at Mussio Painting would love to take on the challenge of giving your home a makeover. We have painted the exteriors of many homes throughout the years, satisfying many customers along the way.
Painting the exterior of your home can make it look brand new. Research shows that an exterior paint job should last approximately 15 years depending on the weather, amount of sunlight, and wind that your house is exposed to.
In order to perform a thorough paint job, you need to ensure that you follow these steps:
Give your house a thorough wash
Scrape all surfaces that have a crack, chip or bubble
Sand wooden surfaces so they are smooth
Patch dents, and holes in the wood and/or siding
Create an impenetrable surface for top coats to stick
Caulk all joints that are less than ¼-inch-wide
Paint your house with the color of your choice
If you don't have the time to take upon the task of painting the exterior of your home, Mussio Painting has a team of highly trained professionals. The current crew has worked together for 17 years. Our work ethic is second to none!
Call the best Ann Arbor exterior painters today at (734) 995-2646 to arrange an appointment with Steve Mussio, the owner. He will personally meet you on your property to discuss your project needs, expectations, and concerns and give any suggestions at your request. He will also explain the project preparation, painting/staining options, and if necessary, any carpentry (wood replacement), along with answering any of your other questions before you receive a detailed bid. We treat ever home as if it were our own. That's how much we care!