Freshen Up Your Look and Make Your Neighbors Jealous With Local Painters in Ann Arbor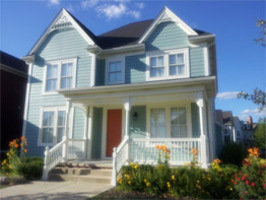 Has the sun bleached or started to crack the paint on your house?
Have you noticed small dents and marks on your walls that can't be magically erased?
Do you move your furniture around to cover up boo-boos, or invite guests over only at night so they can't see your bad paint?
It's time to stop the madness! Get your home a fresh coat of paint!
You don't know it yet, but you've been looking for us. Why? Because we've got everything you've been looking for in local painters in Ann Arbor. We're known for excellent customer service and our project performance, but there are a few more things you should know:
36 years and still going strong! We've been around since 1984 and our reputation is second to none.
We shop local too! We have a great relationship with Anderson Paint Company, a local small business that sells high quality paint to many local painters in Ann Arbor.
We're clean cut and keep the project cleaned up. Our painters wear uniforms and are clean, neat, and professional. We won't leave buckets, brushes, and paint spills around your home and yard. You can learn more ways we go the extra step with the Mussio Painting Advantage.
Our services go above and beyond most local painters in Ann Arbor. We replace wood and gutters, strip wallpaper, seal and stain concrete, restore windows, and more.
We can offer you many references for our excellent work straight from past customers who were 100% satisfied with our service. Hire us and you'll not only make your neighbors jealous, you'll get a fabulous looking home!