Colorsnap Visualizer App Makes Life Simpler!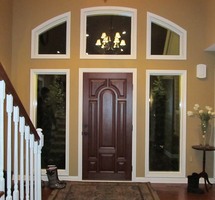 New technology is amazing in today's world! How would you like to see what a paint swatch color would look like in your home with the push of a button?
Well, finally, you can! ColorSnap Visualizer by Sherwin Williams allows you to do just that! Imagine how great it would be to have your theme laid out an advance to see what it would look like! It could save you numerous trips back and forth to the store. Disaster averted!
According to Professional Painting Contractor Magazine, the app will allow you to do the following on your mobile devices:
"New 3-D room scenes enable you to get a more realistic look of your favorite paint selections in a day or night setting.
New Digital Color Wall lets you search for a specific color with a swipe of a finger.
New and enhanced painting tools allow you to automatically fill an area with paint. Using tapping and dragging controls how much of the area is painted.
Match colors from your favorite photos by simply tapping anywhere on the photo and drag to find the desired Sherwin-Williams paint color.
New grouping functionality allows users to apply one color to multiple areas.
You can now save color palettes across all your devices.
Expert color picks by Sherwin-Williams color experts, including hand-picked color combinations and coordinating colors to give you a variety of color schemes to choose from."
Want to learn more about the ColorSnap Visualizer App from Sherwin Williams, visit their website for more information.
Contact Your Local Painters in Ann Arbor to Help You!
Do you still need help visualizing your painting scheme? Call us today at (734) 995-2646 to arrange an appointment with Steve Mussio. He will meet you on your property to discuss your needs expectations, and concerns and give any suggestions at your request. No job is too big or too small for the best local painters in Ann Arbor!