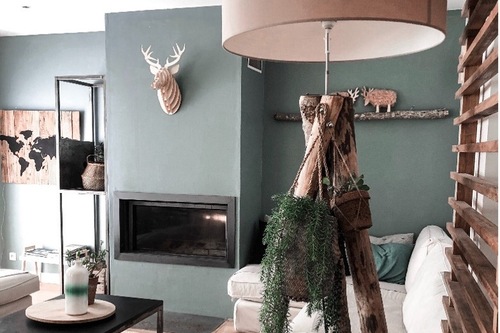 Looking to spice up a room in your home?
Modern paint trends have been leaning towards neutral colors, emphasizing uniformity and versatility. This push towards practicality makes it easy for colors in your house to work seamlessly with one another. While this is a safe approach, accent walls can completely transform the feel of your home!
An accent wall is a wall painted with a pop of color to contrast and stand out in a room with otherwise neutral tones. Aside from sprucing up the room, accent walls can draw attention to a feature, like a fireplace or a large window. Highlighting an interesting design feature can be a great way to personalize your living space. If you think an accent wall is right for you, follow these tips below:
Try a Pattern
Solid colors can be a great way to start out with an accent wall, but don't be afraid to get creative! A fun pattern can take your accent wall to the next level.
An Accent Wall Doesn't Have to Be a Wall
Think outside of the box and try an accent ceiling instead of an accent wall. Accent ceilings can give the impression of higher ceilings, make a room cozier, or draw attention to a light fixture.
Don't Forget to Consider the Other Colors in the Room
The colors already present in a room should inform your color selection when making an accent wall. Certain color combinations can complement smoothly, while others can starkly contrast. Whether going for a bold or muted look, consider your colors!
Choose the Right Wall
This may seem obvious but is still important to think about. Not every room needs an accent wall, and not every wall needs a new splash of paint. Rooms that have a simple structure can benefit greatly from accent walls, but rooms with a lot going on already might feel overwhelming with another design feature.
Leave it to professional painters in Ann Arbor!
It can be exciting to take on and complete a home improvement project. It can also be overwhelming. Attempting too much without professional help can cost you in the end.
Avoid the headache and call professional painters in Ann Arbor at Mussio Painting for projects big and small. We treat every home as our own and guarantee your satisfaction with our work. Give us a call today to discuss your project!