8 Questions to Ask When You're Finding a Local Painter in Ann Arbor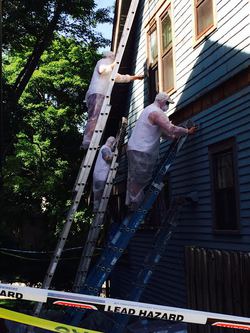 Are you looking for an established local painter in Ann Arbor or the surrounding areas?
Is word of mouth just not cutting it?
Do you find it hard to trust ads?
Want to avoid the headache of painting your house yourself?
You need a local painter with an established reputation who will get the job done right the first time. Our reputation is "second to none" in business! Steve, the owner, is intense about perfection. He is consistently onsite, making sure the job gets done to ensure that you are 100-percent satisfied. We take a special interest in each job and often develop personal friendships along the way. We take pride in our customer's home, much like our own. That's how much we care!
According to Benjamin Moore, you should always ask contractors the following questions when figuring out which company to go with, including:
How long have you been in business?
Do you have the proper/required licenses?
Do you have insurance and bonding?
Are you a member of any national or local painting contractors' associations?
Do you subcontract your work or perform it yourself?
Can you provide references?
Do you offer written guarantees of your work?
What products do you use?
As well as asking the right questions…Benjamin Moore suggests paying attention to their behavior is just as important because it's a preview of what's to come if you sign on the dotted line.
Does the contractor give off a sense of professionalism and experience?
Is the contractor courteous and business-like?
Does the contractor have a busy schedule?
Does the contractor return phone calls and provide estimates in a timely manner?
Is the contractor on time for appointments
If you're in the Ann Arbor area and would like a free evaluation and estimate for interior painting, exterior painting, deck refinishing, drywall repair, or anything else your home might need, please contact local painters in Ann Arbor at 734-995-2646. You won't regret it!