Mussio Painting Company in Ann Arbor Shares Their Secret to Success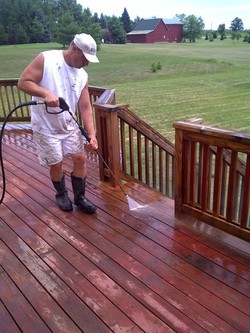 Do you want your home treated with the utmost respect?
Do you want your family to feel safe?
Our professional painting crews have a reputation for having an eye for incredible detail. Our work is second to none!
Why do customers choose us over our competitors?
Here's why!
Steve Mussio is frequently on site, so you can easily communicate with him.
Our team is professionally dressed– no tattoos, no smoking on site, we're clean-cut and trustworthy.
Our current crew has worked together for 17 years, so we know how to work efficiently, which saves you time and frustration.
We use only the best products that last the longest!
Our team shows up on time.
We clean up daily, leaving no equipment behind that may cause a potential hazard.
We perform a thorough job from start to finish (power washing, caulking, scraping, etc.)
We have no hidden costs or fees.
We carry liability insurance and pay workmen's compensation benefits.
Don't waste your money on an inexperienced Ann Arbor painting company or your neighbor's teenager. Don't spend your time on Craigslist ... they don't list reviews on previous jobs! If you don't want to pay twice to have the job done right, you should do the research necessary to find an experienced Ann Arbor painting company. By hiring the best painting company in Ann Arbor you can avoid all the problems bad painters can cause by hiring the highest quality you can find in the painting business, that's us!
Call us today at (734) 995-2646 to arrange an appointment with Steve Mussio. He'll personally meet with you to discuss your project needs, expectations, and concerns. Steve has been in the painting business for 36 years and can offer you an experienced and professional recommendation. We treat every home as if it were our own. That's how much we care!