Make the Most of your Painting Investment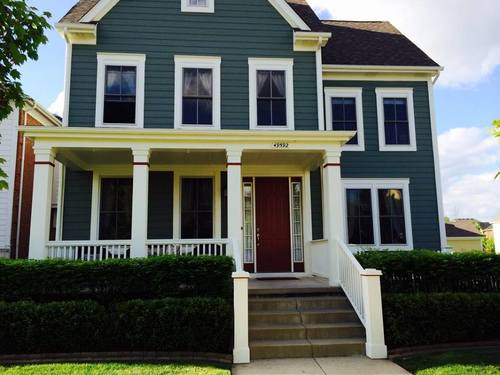 If you're thinking about painting, it's because you want a change. Maybe it's just time to freshen things up with new color. Or maybe you've noticed that the exterior of your home is faded or chipping, or your interior shows years of wear. It may not be a big job, but if you're working at home these days and you'd like to change a baby pink nursery into a grownup home office, it's time to take action. When you decide to paint your house or business, you're making an investment of money and time to gain peace of mind in the future. Let's look at how to make sure your investment is solid.
Evaluate
Take a good look at your project as if you haven't been looking at your house every day. On the interior, look at condition of the walls. Are there dents from doorknobs or from that time you tried to get the couch up the stairs? Do you grab the door in the same spot every day, building up a grubby patch? Around outlets and the thermostat, are the walls nice and even or do they show evidence of less-than-ideal renovations? Do you want to paint one room, or do you want to give yourself an entirely new fresh environment?
If you are looking at the outside, look for flaking paint, bubbles, and fading paint. An exterior paint job generally lasts no more than 15 years. Remember that exterior paint also protects your house, sealing it from weather and mold. Also look at the porch and deck. Do you need to repair that column on the porch, or is the deck due for waterproofing? Make a complete list of things you'd like to change. A painting professional from Mussio Painting can help you determine what needs to be done, and their team can do the needed repairs before painting.
Choose colors and finishes
This part can be intimidating. Maybe you're tired of beige walls and white woodwork. Not an artist? Not sure what colors go together? If you let your kids paint their own bedrooms 20 years ago, it might be time for a change! Consider a color consultation with our Ann Arbor Master Painters. They will talk through your style, your preferences and what sort of feeling you want to get when you walk up to your house or turn on the lights in the dining room.
When you've narrowed your options, get paint samples and try out swatches on the wall. Have a look at how the color changes during the day and what the colors look like with artificial light. Consider the finish, too. Most people want a cleanable gloss or semi-gloss in the kitchen and bathroom. Most people don't want a shiny finish on the walls in areas like the living room or den. Mussio Painting has a long relationship with Anderson Paint Company and we use their preferred Benjamin Moore products.
Preparation
Yes, painting is preparation-intensive. A clean, smooth surface will take and hold paint better and your job will last longer. You can do the prep yourself, or you can include that in the scope of work from your professional painter. Because of the time we spend with you learning about your project, estimates from Mussio Painters at Ann Arbor Painting are clear and inclusive, with no surprises.
On the outside, give your house a thorough wash. Be careful about jet spray, it can cause wood and siding damage or drive water through window frames. Scrape all surfaces that show cracks, chips, and bubbles. Sand, smooth, and wipe wood surfaces. You may need to caulk small cracks and seams and repair dents and holes. Stucco and brick may need specialized attention.
Inside, wash the walls and the woodwork and fix those dings. Drywall repair will require different techniques than plaster repair. You may need to paint primer over bigger repairs. When you're done, remove light switches, and move out furniture or protect it with drop cloths. If you want to get rid of a popcorn ceiling, this is the time to do that.
Maintenance
The best paint jobs are pretty much maintenance-free. Keep some leftover paint for minor touch ups and wipe down glossy surfaces regularly. Drips on the walls and spatters on the woodwork are often difficult or impossible to repair after the paint is dry.
Consider the Value of Professional Painting Company in Ann Arbor
If you have the time, expertise, and patience to do the job yourself, these suggestions will help you get the best result. If you decide your best investment is to hire a professional, it's time to call Mussio Painting at (734) 995-2646. Arrange an appointment personally with Steve Mussio.
At Mussio Painting, we have more than 35 years of experience in the greater Ann Arbor area. You'll get a licensed team that has worked together for years. They clean up the job site every day. Your cat will not track paint through our work sites. You'll work with Steve to get a no-surprises estimate that describes the scope of work and the timeline. Ask about guarantees and reviews. Mussio Painters provides peace of mind and protects your investment in your home.
Consult with Mussio Painting, a professional painting company in Ann Arbor and look forward to having the nicest house on the block. Coming home to a fresh, beautiful home makes you feel proud, comfortable, and relaxed.