Spring Project: How to Convert Your Attic to a Bedroom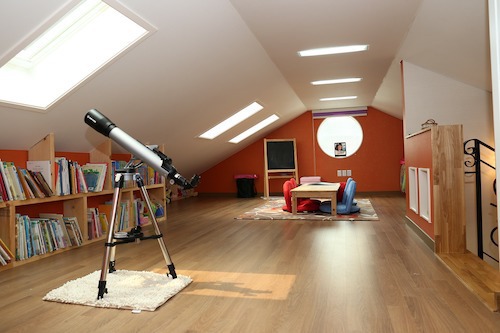 Spring has sprung!
Is it time for a redecorating project around your home?
Want to transform your attic into a livable space?
Check out these ideas!
Industrial style: To achieve this look you want to leave as much structure visible as possible. If your attic has exposed brick, leave it! To give it a modern spin, consider painting the brick a neutral tone.
Barn style: The achieve this look you need a lot of exposed wooden beams. You should also incorporate other natural elements that give your space a handcrafted look and feel.
Bungalow style: This style allows you to be the most creative because of the sloped ceilings. Bungalow style allows you to be more creative because it's a smaller space to renovate compared to the other styles. Built-in features like bookcases and shelving are great ideas to make the most of this space.
How do I find the perfect paint color for my space?
To ease the color selection process, we suggest testing several paint colors on your walls. Some other tips include: trying samples, viewing swatches in different light, living with the colors, customizing colors, and coloring your ceiling.
What's included in a painting estimate?
Mussio's team of local painters in Ann Arbor is well-known for their incredible detail – even when we give you an estimate! We'll be sure your estimate includes: the size of your room, textured or un-textured walls, estimated job time, and any carpentry that may be needed. You can request your free estimate here.
Contact the Best Local Painters in Ann Arbor to Get the Job Done!
Don't just take our word for it! Our client, Kimberly M., said, "Steve and his wonderful team did a great job on our home which had been looking pretty brutal. They were very professional and polite and very very hard working. In fact, I never caught them NOT working. Steve even built us a new deck step to replace the old crumbling dangerous one. They did all that Steve had promised and more, even cleaning up after themselves, which is pretty rare these days! I would definitely recommend Mussio Painting (already have) and use them again. Thank you, guys, we love love love our beautiful home."
A warm and welcoming attic is not out of reach! If you're thinking about designing your attic, or have questions on how to use your space, give us a call at 734-995-2646- we'd love to hear from you!