The Right Exterior Paint Color for Your Home: Decoded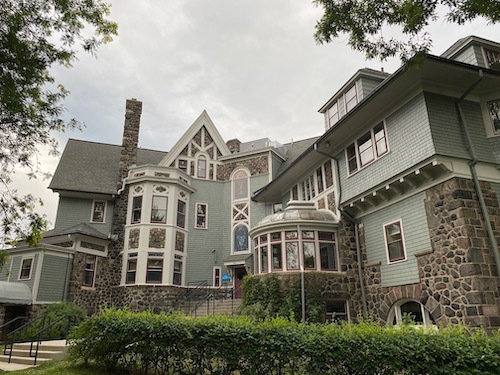 Whether it's time to spruce things up or time to sell, choosing a new exterior paint color for your home is a daunting task. What's going to look best? How do you make your home stand out? What's the logic behind picking an exterior paint color?
Unless you're a trained visual artist, color theory is probably out of your expertise. Even a trained visual artist may not recognize the best way to pick exterior paint color. It's overwhelming because it can't be easily undone. However, with the right exterior color, you can add thousands of dollars of value to your home as well as adding invaluable pride to your investment.
How do you pick the best exterior paint color for your home? Here's a few things to help you get started:
Consider your home's architecture. Whatever color scheme you choose for your home should complement your home's architecture, not conflict with it. For example, Mediterranean style homes look best in warm earth tones: it would be very discordant to see one painted teal. Of course, there is leeway (Victorian homes look great in neutrals, but in Charleston or San Francisco, Victorian homes are often painted in fun, candy-colored hues.) In general, choosing a color scheme associated with the style of your home is going to be most pleasing to the eye.
Account for your home's natural surroundings. Is your home surrounded by bright green foliage? Colorful gardens? Dark evergreens? Expanses of sky? Pick a color scheme that compliments these elements rather than competing with them. If your home is surrounded by lush greenery, a bright color might compete with that natural brightness. If your home is surrounded by dark evergreens, you may want your home color to have a red undertone that pops against it.
Be mindful of your neighborhood aesthetic. You don't want your home to look like a clone of all the other homes on your block, but it may not be in your best interest to be the zany house on the block. Especially if you're painting your home in order to sell, you want to pick a color scheme that compliments the other homes in the neighborhood while still elevating your exterior.
Get advice from professionals. Professional home painters have wisdom accumulated from years of experience. They'll be able to advise you on many fronts: what type of colors work best for your home style, how to pick the right accent colors, what style of paint to use, what colors look best in bright sun or shaded areas and more. When in doubt, a conversation with an expert is always a good place to start.
At Mussio Painting in Ann Arbor, we've been servicing satisfied customers since 1984. Our licensed and insured professionals provide our customers with expert advice, excellent results, and master craftsmanship while using high-quality materials. We value transparency in our bids: you'll never face hidden costs or surprise charges. When it comes to painting exteriors, we have a wealth of experience revamping different home styles in a variety of Michigan neighborhoods. We value open dialogue with our clients and are here to make sure you maximize your home's natural beauty.
If you're ready to learn more about overhauling your home's exterior with a new paint job, contact us with any questions. When you're ready to get started, we'll come to your home and offer a free estimate.
Frequently Asked Questions:
How long will it take to paint the exterior of my home?
The answer to that question depends greatly on the size of your home. However, Mussio Painting is committed to working long hours to ensure your job is finished in a timely fashion. We'll always have at least four crew members on site – including the owner.
Are you lead abatement certified?
Yes. If hazardous lead paint is found in your home, we're certified to handle it safely. We'll even guide you through all the procedures we use.
Can you provide references?
Of course! With over three decades in the business and hundreds of satisfied customers, we'd be happy to provide you with references as well as a portfolio of our work.
Contact Expert House Painters in Ann Arbor to Get the Job Done!
To schedule your free estimate – or talk to one of our experts – call us today at 734-995-2646. Our expert house painters in Ann Arbor provide many references who will confirm the excellent quality you'll receive. You'll be amazed how our work will transform your home!