How a Fresh Coat of Paint Can Help Your Kids Study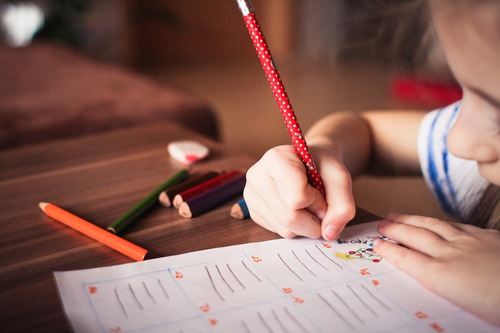 Researching unique strategies to improve your kids' study habits? Trying to facilitate better studying any way you can? Does your kids' study space need a makeover by local painters in Ann Arbor?
Most parents are happy to do almost anything to help their kids succeed in school or whatever they may be studying for. While some of our kids might be fortunate enough to develop great study habits on their own, others could really use some extra help and motivation. As a parent, it's helpful to know there is more we can do than just reminding our kids to study or trying to incentivize studying with privileges and rewards.
One fun and unique way you can facilitate better study habits in your kids is with a fresh coat of paint in their study space. Color psychology suggests that certain color families actually promote states-of-mind that may encourage effective studying. There are also other creative options for paint in a study space to help your kids get the most out of their study session. As expert local painters in Ann Arbor, we've done the research and come up with seven excellent ideas to use paint to help your kids study.
1. Calming Blue
Blue colors are meant to be calming and increase productivity. For a study room, light blues aren't the best option; but brighter hues like turquoise can work well. For a more subtle look to your room, remember that every wall doesn't need to be coated in an ultra-bright shade. Instead, try a bright blue accent wall on the side of the room the desk or study space faces.
2. Stimulating Red
For a surge of energy to get your kids through the longest study session, brush on a coat of warm and stimulating red paint. If your child usually studies in their room, choosing the right shade is important to avoid possible disruptions to sleep. Deep or muted shades of red accompanied with dimming lights are a good option for the bedroom. Be sure not to go overly dark or risk that the color is too distracting for study.
3. Energizing Yellow
Yellows can promote energy and encourages focus. Like red hues, bright yellow can be potentially disrupting to sleep; so, going for softer variations of yellow can be ideal for a bedroom space. In other rooms, you can opt for a brighter shade… like lemon zest.
4. Tranquil Green
Great for tranquility and concentration, green is a color that can work in almost any of its many varieties. Fresh green tones are a great option for a small space, but brighter or deeper shades can also work, especially in larger rooms or as an accent wall.
5. Focused White
The white and creams are a color family that is great for clarity and focus. Help your kids avoid mental distractions by giving their study space a clean look with a bright or soft white coat of paint. A satin or matte finish to the paint on the walls will also minimize glare and help you create the ultimate environment for a clear head, ready to absorb some knowledge.
6. Cool Chalkboard
This option has less to do with color and more to do with function. Painting a wall or section of a wall with chalkboard paint can be a great, fun asset to your kids' study space. Using the chalkboard for studying can help your kids visualize the material or concept they're working on or imagine it in a different way. Being able to write on the wall could also be a great motivation for kids to get into studying.
7. Attractive Magnetic
Apply of layer of magnetic paint to a wall in a bedroom or study space and give your kids the freedom to play with educational magnets that will stick to the whole wall. This option has a great potential for younger kids to help them learn and explore numbers, letters, objects, and relationships. The paint can be covered in a layer of normal paint to blend in seamlessly with the look of the room.
Trust Your Room's Makeover to Local Painters in Ann Arbor
Do even more to help your kids study by simply applying a fresh coat of paint to their study space at home. Take the work out of painting and trust the job to the professionals at Mussio Painting. We treat every home like it's our own and put our focus on customer satisfaction to deliver beautiful results. Give us a call today to talk about how we can help you improve your home with paint!