Make a Statement with Different Shades of Red!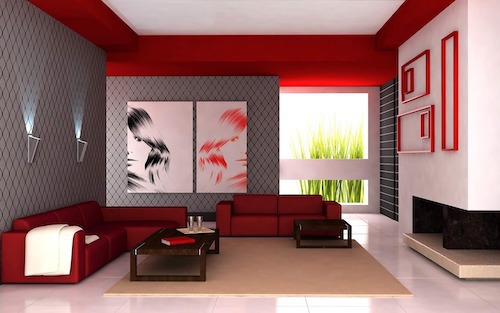 Are you tired of your boring white walls?
Want to make a statement?
Red can be a great choice! It comes in various shades and is never boring. Red is symbolic of energy, war, danger, power, as well as passion, desire and love.
Subtle differences in the shade of red you choose can alter the way you feel. Depending on the room, you want to be careful about your color choice!
Here are a few examples of how different varieties of red can create a particular mood in a room:
Pink: a softer alternative to red with feminine qualities; symbolizes love, romance, and friendship
Light red: a little stronger than pink; associated with joy, sexuality, passion, sensitivity, and love
Red-orange: an intense, in-your-face red; signifies desire, pleasure, domination, aggression, and action
Dark red: suggests vigor, willpower, rage, anger, leadership, and courage
Reddish-brown: a calmer, more cozy red; represents harvest and fall
Brown: a neutral with reddish undertones; corresponds to stability and denotes masculine qualities.
Contact the Best Painting Company in Ann Arbor to Get the Job Done!
Don't just take our word for it! Our client, Carrie Turner said, "I highly recommend Mussio Painters. Steve and his crew painted our home exterior and finished a week ahead of a deadline that I had requested. We are extremely happy with the results and are confident that it will last longer than any of our previous paint jobs. What I especially appreciated was that Steve and his crew power-washed our house from the top down, avoiding getting water under the siding, which happens when all you do is stand on the ground to wash. I also appreciated that he was on site every day with his crew and that once they started our job, they came every day until it was done-Steve doesn't try to stretch his crews across multiple jobs at the same time. They work hard, pay attention to the details, and did a great job."
Give your home the best chance of selling when you use the best possible professional painting company in Ann Arbor and the surrounding area. If you're thinking about painting the interior or exterior, or have questions on how to use your space, give us a call at 734-995-2646- we'd love to hear from you!