Why Should I Hire a Company Like Mussio Painting Instead of Doing it Myself?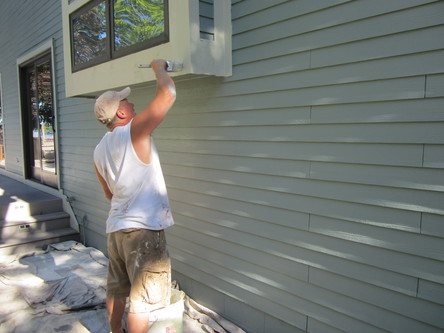 Is prepping necessary? Yes.
Can I paint over wallpaper? No! Like most short cuts, this is one aspect of painting you should not race through. Take your time.
Can I easily paint over stains? No. You must make sure you use a good primer first.
Does this seem like a lot of trouble? It may be, but good painting takes patience. If patience isn't your strong suit, maybe you should consider hiring a professional. You can make costly mistakes if you don't know what you're doing or if you're prone to hurrying. You can even end up paying more in repairs than the original paint job might have cost!
From amateur painters to lead abatement, we've seen it all! At Mussio Painting, we're the experienced professionals you've been waiting for!

We've been in business for 34 years, servicing satisfied customers in Ann Arbor, Plymouth, Saline, Canton, Milan, Chelsea, Dexter, Manchester and Ypsilanti.
"Excellent does not properly describe the work Steve, Ron and the crew did for us. Superb? Fantastic? Perfection? Words do not do their work justice.

Mussio Painting turned our poor, beat down home into a palace. Steve is a joy to work with and his team is made up of some of the nicest, hardest working individuals you will ever meet.

If you need painting or other work done to your home or deck, put yourself in Steve Mussio's hands, you will not regret it."
Josie, Ann Arbor
Call Expert Ann Arbor Painters Today!
Call us today at (734) 995-2646 to arrange an appointment with Steve Mussio. He will personally meet you on your property to discuss your project needs, expectations, and concerns, and give any suggestions at your request. He will also explain the project preparation, painting/staining options, and if necessary, any carpentry (wood replacement), along with answering any of your other questions before you receive a detailed bid. You'll be amazed how our Ann Arbor painters will transform your home!