Why You Should Stain Your Deck Regularly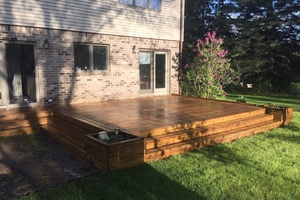 Are you unhappy with the way your deck looks?
Is it covered with cracks and mildew?
A deck on your home can be a focal point for important time spent with your family and friends and can be the place where many memories are made. It can also be a great investment for you as a homeowner, increasing the value of your property. Regular maintenance will maximize the time you can spend on your deck and will add to the beauty of your home. Staining your deck routinely offers several practical benefits:
Looks
Simply put, a stained deck just looks good. You have several options for the color you can stain your deck and you can completely revitalize an old deck with a stain. Years of sun damage on an unstained deck will change the shape and color of your wood. A new stain will make the grain of your wood pop!
Rot Protection
A stained deck staves off rotting wood and keeps bugs at bay. Keeping moisture out of your deck is easy with a fresh stain. Unstained decks invite mold, mildew, and rot.
Protection from Cracking
Cracked wood can keep you off your deck during the warmer months. Splinters and sharp pieces of wood are easily prevented with a stained deck. Certain types of stain will lock in moisture while keeping out water.
Your Choice for Exterior Painters in Ann Arbor
Don't just take our word for it! Our client, Carrie Turner said, "I highly recommend Mussio Painters. Steve and his crew painted our home exterior and finished a week ahead of a deadline that I had requested. We are extremely happy with the results and are confident that it will last longer than any of our previous paint jobs. What I especially appreciated was that Steve and his crew power-washed our house from the top down, avoiding getting water under the siding, which happens when all you do is stand on the ground to wash. I also appreciated that he was on site every day with his crew and that once they started our job, they came every day until it was done. Steve doesn't try to stretch his crews across multiple jobs at the same time. They work hard, pay attention to the details, and did a great job."
It can be exciting to take on and complete a home improvement project. It can also be overwhelming. Attempting too much without professional help can really cost you in the end.
Avoid the headache and call exterior painters in Ann Arbor at Mussio Painting for projects big and small. We treat every home as our own and guarantee your satisfaction with our work. Give us a call today to discuss your project!