Our Ann Arbor Painters Will Tell the Color of Your House Says About You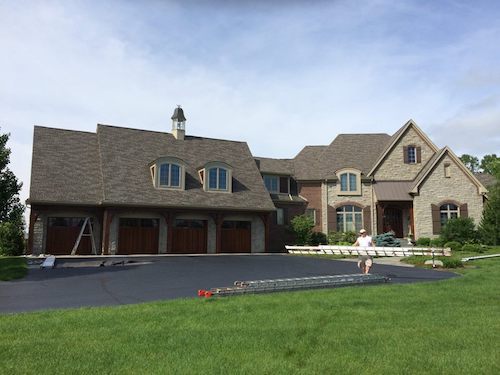 In search of the perfect paint color to give your home a new look? Want to make sure the color you choose for your house really reflects you? Need advice from Ann Arbor painters to find a paint color that works for you and your home?
Even though paint isn't permanent and can be covered or even stripped, choosing a paint color for your house can be an important decision. Not only do you want to pick a color you really like, you also want to go for a color that sends the right message about you. What do you want to communicate with the color of your home? Read about what master Ann Arbor painters say different colors suggest about you and your home and get a feeling for the paint color you may want to choose to revamp your house:
Bright
No matter the hue, bright colors feel expansive and deep. They tend to exude positive emotions like happiness. When you choose a bright color for your home, you send the message that your house is a friendly and inviting place and that you enjoy having company and long conversations with your neighbors.
Cool
Hues in the cool family have a calming effect and create a look as if receding from the viewer, reminiscent of the sky, water, and open fields. Using a cool color like blue or green communicates that you're calm and accepting and treat your house like an oasis in an otherwise hectic world. To avoid an icy or uninviting look, you can balance your cool paint color with warmer accents.
Warm
Colors like reds and yellows are warm and appear to spring forward and create a cozy atmosphere that builds intimacy. Painting your house a buttery yellow will tell people you're cheerful, welcoming and a great host. When you choose a warm color, consider a moderate saturation to avoid connotations with things like mustard or orange soda.
Jewel
A bold and elegant jewel tone like emerald or ruby is a way to make a strong statement. These are the colors you choose to present yourself as outgoing, confident, creative, and inspired. With a tendency to be dynamic and enveloping, jewel tones are not overbearing like dark colors. If architectural dimension is missing from your home, jewel tones also bring a lot of visual interest. Pair the striking tones with neutral accents to let the color shine.
Neutral
Neutral tones are timeless and project a sense of permanence like stone or marble. With a neutral paint color adorning your home, you'll appear to be practical, classic, relaxed, and even earthy. Going with a neutral color can be wise because you're less likely to grow tired of it after a few years. But it's also a great choice for people who love color! With a neutral backdrop, you can create a new and bold look with accents and accessories whenever you want to change things up. Easily avoid a boring look with your neutral paint by mixing dark and light tones and adding in some texture.
If one if these color families struck a chord, you're one step closer to finding the perfect color for your house! Whether you decide you want your house to say you're bold and elegant or cool and classic, the master Ann Arbor painters at Mussio Painting can help revamp your home with a new coat of paint. Give us a call today to talk about your next paint project!